Lemon White Balsamic Vinegar
Lemon White Balsamic Vinegar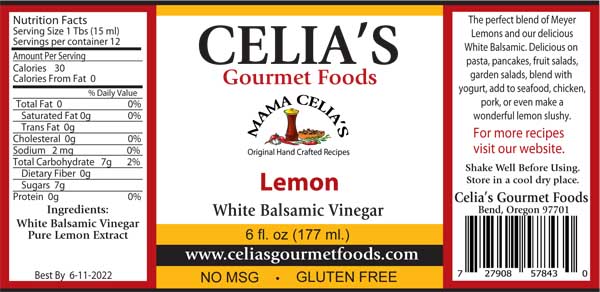 The perfect blend of Lemons and our delicious White Balsamic Vinegar. Delicious on pasta, pancakes, fruit salads, garden salads, blend with yogurt, add to seafood, chicken, pork, or even make a wonderful lemon slushy. This is one of our newest smash hit sensations that will surely enhance everyone's kitchens!
6oz Bottles: $15.00 each, 4+ Bottles $14.25 each
12oz Bottles: $23.00 each, 4+ Bottles $22.25 each
Quantity Pricing is reflected in your shopping cart and at checkout.
User Reviews For Lemon White Balsamic Vinegar
No Reviews...Click the 'Add Review' tab to be the first one to review this item!