Spanish Arbequina Extra Virgin Olive Oil
Spanish Arbequina Extra Virgin Olive Oil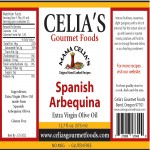 With varietal, climate and harvest methods being key to high quality superior olive oils, Spain tops the list for the right combination. They have been perfecting their craft for generations and are the largest producer of olive oil in the world. This delicate smooth varietal is cultivated in the Catalonia region and is an early harvest. Brush on your favorite grilling foods (veggies, meats, poultry & seafood) to seal in moisture. Drizzle the finished dish just before serving to enhance the grilled flavor.
Flavor Profile:
Taste exhibits abundant fruitiness, sweetness, slight pungency with a hint of almond. Smooth, delicate flavor with a heavenly aroma.


12oz Bottles: $23.00 each, 4+ Bottles $22.75 each
Quantity Pricing is reflected in your shopping cart and at checkout.