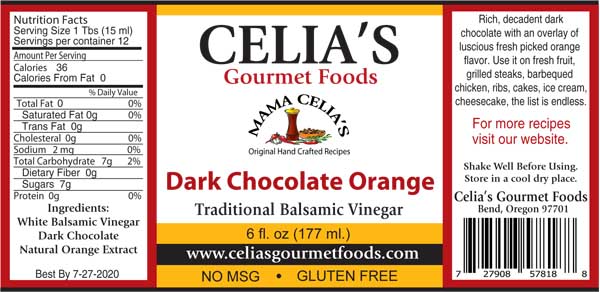 Rich, decadent dark chocolate with an overlay of luscious fresh picked orange. Use it on fresh fruit, grilled steaks, barbequed chicken, ribs, cakes, ice cream, cheesecake, the list is endless. Make an amazing dark choclolate orange martini or smoothie, or it is fantastic with a white cheddar cheese toped with fresh blueberries or strawberries! Or as with all our Balsamics, this one goes great with a spoon or through a straw as well!!!!!
6oz Bottles: $13.00 each, 2-3 Bottles $12.50 each, 4+ Bottles $11.25 each
12oz Bottles: $20.00 each, 2-3 Bottles $19.50 each, 4+ Bottles $18.25 each
Quantity Pricing is reflected in your shopping cart and at checkout.
Send Tell-A-Friend Message