Aprioct Brandy Grilling Sauce
Aprioct Brandy Grilling Sauce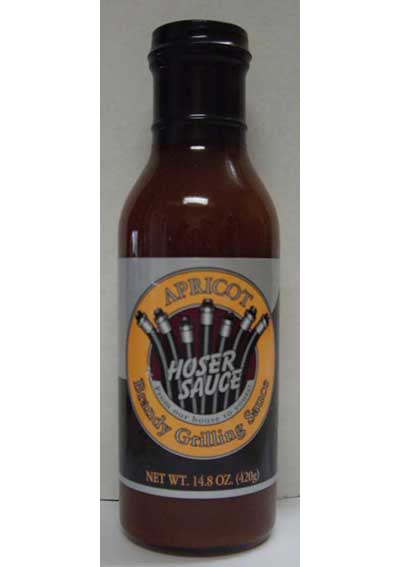 Our Apricot Brandy Grilling Sauce was first created for Chicken, but it works very well on a variety of foods, such as pork, beef, ribs, salmon, rice, veggies, yes, we said veggies, and don't forget the baked beans and or chili. Apricot Brandy Grilling Sauce also makes a great dipping sauce and or marinade. You will love the savory taste with a sweet smooth finish and so will all your family and guests!
Use as a Dipping Sauce
French Fries-Crab-Tator Tots-Onion Rings-Chicken Strips-Veggies Stix-Cold Shrimp-Oysters
Spring Rolls-Chicken Livers
Use as a Topping
Meat Loaf-Hashbrowns-Scrambled Eggs-Hot Dogs "Hoser Dogs"- Omelets-Baked Potatoes
Salmon-Rice-Kielbasa-Hamburgers " Hoser Hamburgers"
Use as a Marinade ( Before Cooking )
Pork-Beef-Chicken-Lamb-Wild Game
Use as a Grilling Sauce ( While Cooking )
Chicken-Beef-Veggies-Salmon-Pork-Lamb-Shrimp-Wild Game
14.4oz Bottles: $13.00 each, 2-3 Bottles $12.50 each, 4+ Bottles $11.25 each
Send Tell-A-Friend Message
User Reviews For Aprioct Brandy Grilling Sauce
No Reviews...Click the 'Add Review' tab to be the first one to review this item!