Basil Lemongrass Infused Olive Oil
6oz Bottles: $15.00 each, 4+ Bottles $14.25 each
12oz Bottles: $23.00 each, 4+ Bottles $22.25 each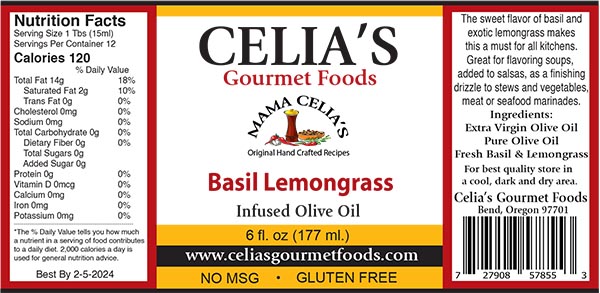 The sweet flavor of basil and exotic lemongrass makes this a must for all kitchens. Great for flavoring soups, added to salsas, as a finishing drizzle to stews and vegetables, meat or seafood marinades.
6oz Bottles: $15.00 each, 4+ Bottles $14.25 each
12oz Bottles: $23.00 each, 4+ Bottles $22.25 each
Quantity Pricing is reflected in your shopping cart and at checkout.
No Reviews...Click the 'Add Review' tab to be the first one to review this item!
Please complete the form below to add your review of this item. (All Fields Are Required)
Disk full (/tmp/#sql_17d9_0.MAI); waiting for someone to free some space... (errno: 28 "No space left on device")